Back in China On Tour!
Hello from Chengdu, China. Most of you have heard about the major earthquake that rocked this region back in May. Thousands of people lost their lives and many more still remain homeless. While the region is bouncing back and the Chinese people are seem stronger then ever, that is not the reason I am here. I have been assigned to cover the Chengdu Golf Championship. Some of you might not know that China has it's own tour similar to the PGA in America and the European tour. The Omega China Tour was launched by the China Golf Association in 2005. It is a development tour intended to produce players who can move up to the Asian Tour or other international tours, such as the European tour and the PGA and to help accelerate the development of golf in China where golf was reintroduced to the PRC in 1980's after being absent during the early communist years. Golf was considered a sport for the elitist and not welcome in the newly formed communist country. And while the level of play isn't to the standard of Tiger Woods or Phil Mickelson....yet, they do have players who can break par on a championship course and play under the pressure of tournament play. What strikes me the most of these unheard of swingers is their stories, where they have come from and how they got to where they are now. Players who were once security guards, postal clerks, peasant field workers, driving range workers and caddies. These players are lucky to have picked up a club and found they could hit the ball a mile, hit it straight and sink a snaking 12 foot birdie putt. Also, on hand this week is the China National Team which consist young up and coming players some who are just 16 years old. Given the same opportunities of their counterparts in the west they can and should go far. I have been hired by World Sport Group, a great group of professionals who are based out of the Hong Kong and Beijing offices, to document all the tournaments this year. Thanks for having a look and check back for another posting or two.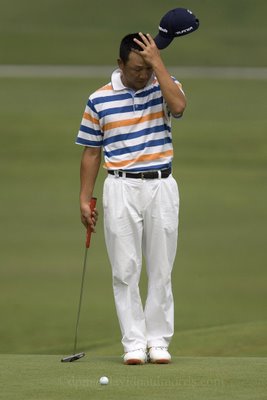 1st round leader Yuan Hao reacts after his par putt fails to go in the 7th hole on day 2.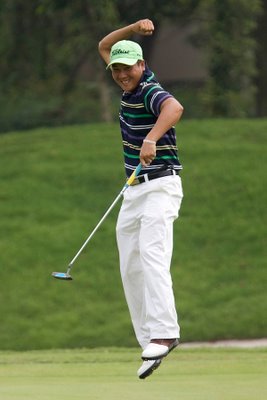 Liu Anlin jumps for joy after making a birdie putt on hole 3.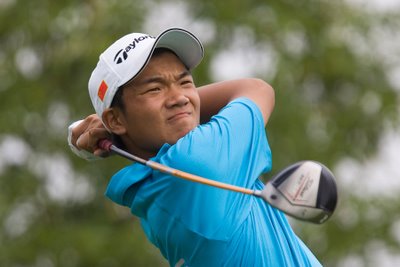 16 year old superstar Benny Ye Jianfeng (A) of China watches his tee shot on the 3rd hole.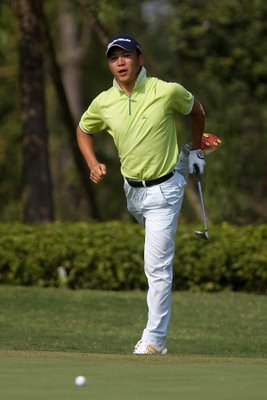 1st round leader Yuan Hao of China reacts to almost holing out his chip shot on the 14th hole.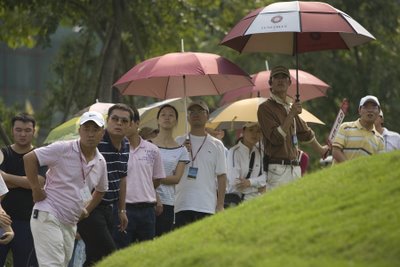 The gallery watches the action on the 12th hole.
Labels: China, David Paul Morris, Golf, Omega China Tour, World Sport Groupl