The Boss Comes To Town
One of the great things about my job is that I get to go to places and see things that I like. Last night I covered the Bruce Springsteen concert in the Condord Pavilion for the San Francisco Chronicle. After the usual 3 song limit of shooting I was told that I could stay and watch the rest of the show providing I return my cameras back to my car. Hmmmm 3 hours of Springsteen and for free no less....ah...OK! The sound was amazing to say the least. He was backed up by about 20 musicians made up of three or four guitars, banjo, accordion, steel guitar, keyboards, drums, bass, various other percussion and a rockin' dixieland jazz horn section with Richie "LaBamba" Rosenberg on trombone and Mark "The Loveman" Pender on trumpet. You might know these two from the Max Weinberg Seven band, Conan O'Brien's house band. There were as many as seven or eight people at one time harmonizing in song, the Seeger Sessions Band didn't so much play the songs they overwhelmed them. The band, a sprawling assemblage of folk and bluegrass musicians was put together to record Bruce's latest album, "We Shall Overcome: The Seeger Sessions". It consists of the songs of folk legend, Pete Seeger who is still alive at age 87. If they come to a town near you definitely go and see them. You won't be disappointed. Here's a few shots from my 3 song take.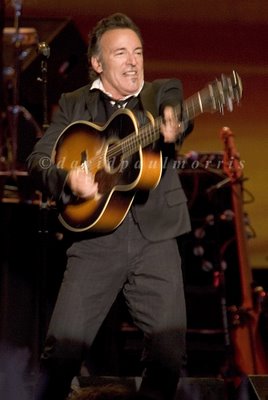 Bruce shows why he is called "The Boss" as he wails on the acoustic guitar.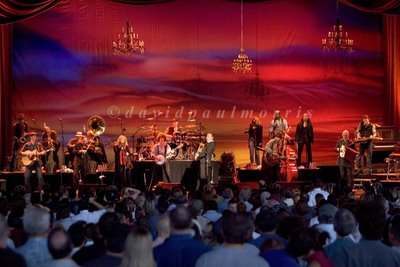 The Seeger Session Band plays on.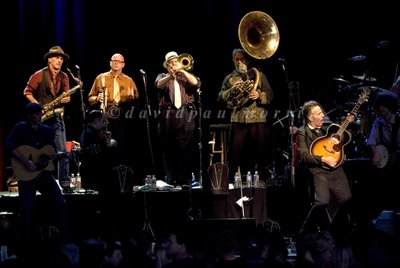 Part of the Seeger Session Band with Richie "LaBamba" Rosenberg on trombone and Mark "The Loveman" Pender on trumpet.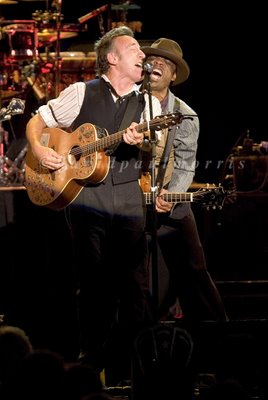 Wearing a black vest he got from Johnny Cash, Bruce and a backup singer belt out a tune.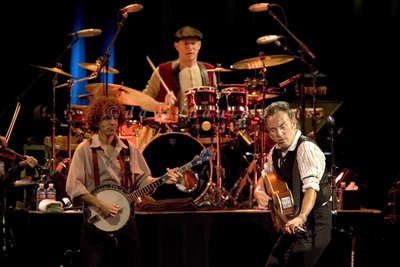 Bruce and the band play on and on and on and on.........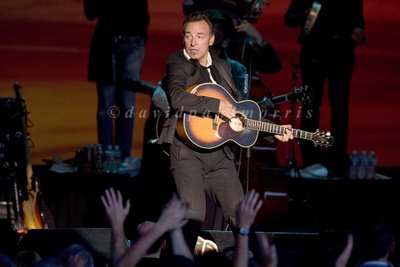 Bruce walks along the side of the stage to the delight of the crowd.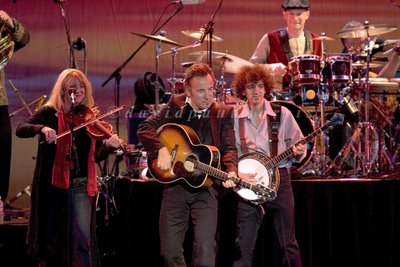 Bruce Springsteen plays with the Seeger Session Band at the Concord Pavilion.