Lop Buri, Thailand, CHECKING IN TO CHECK OUT
Talk about a reality check. After shooting the Bangkok Fashion Week 2006 where the people are alive and beautiful coming to Lop Buri really put things in perspective. After getting a last minute invitation from Nym to go to Lop Buri it took me about 3 seconds to decide to postpone my trip back to Hong Kong a few days and agree to go. I have always wanted to visit this AIDS hospice located about 2 hours north of Bangkok but for some reason I never did. I wanted to see what ever other photographer who has either lived or worked in Asia had seen. I am convinced I was the only photojournalist never to have visited the special temple or Wat as it is called in Thailand. Wat Phrabaht Namphu is a place where most people who go to live never leave. In the hot season, up to five or six people may die a day. Some people arrive and are already very sick. Some people die within a day of their arrival, others merely need some time to recover from an infection and then are well enough to go to one of the cottages that is located on the property. The majority of people come when they are so sick that they can no longer hide the symptoms of their illness, or so tired that they can no longer work. There are many volunteers who come to work here with the majority coming from Japan, Australia and the United States. One man I had the pleasure of meeting was Father Mike Bassano from New York of the Maryknoll Fathers and Brothers. He has been working in Lop Buri for the past 3 years and plans on staying for another 2. I was very impressed with his ability to engage and connect with the patients. I could see it in their faces when he was around that he was really their only real friend. More people like him are needed in this world. Many thanks to Nym and Mont for allowing me to come along. I will be going back for sure. Below are a few images from my brief visit one hot afternoon.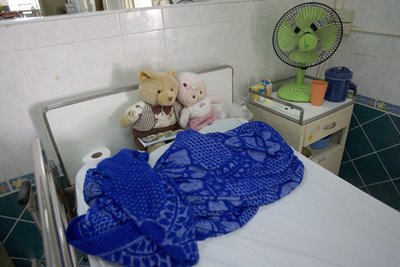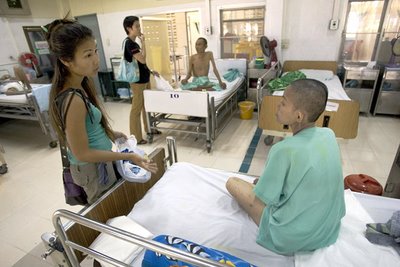 Nym (L) and Mont visit with patients in Wat Phrabaht Namphu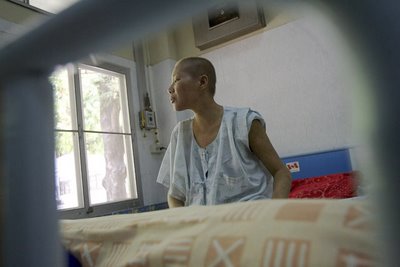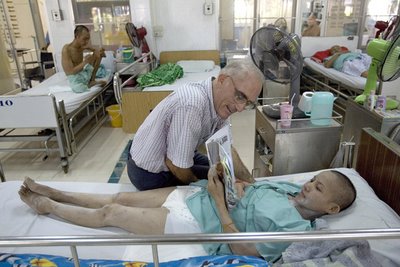 Father Mike Bassano visits with one of the patients.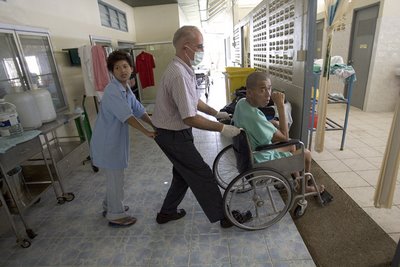 Father Mike Bassano wheels a man into the shower area with some help from one of the patients.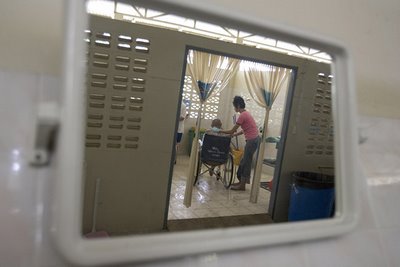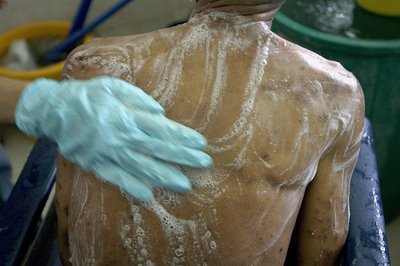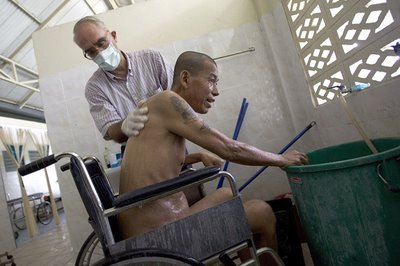 Father Mike Bassano washes the back of a man in the shower area.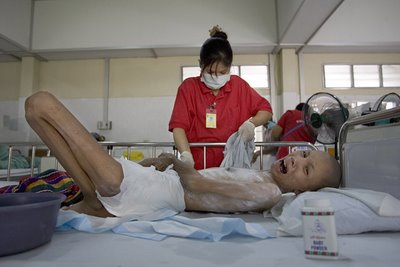 A patient cries in pain as he has baby powder put on. The powder helps to keep the skin dry.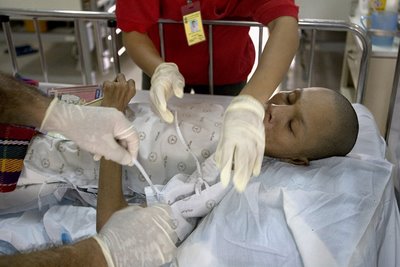 Volunteers dress a patient in the Wat.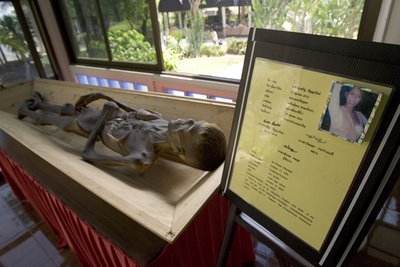 In the AIDS museum located in the front of the Wat some bodies of victims of AIDS are on display for people to see.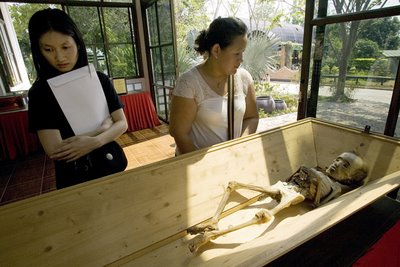 Two women look at a young victim of AIDS. The baby was a year and half old when she died from AIDS that was contracted through her mother.